Bologna Airport Arrivals (BLQ)
Not all flights may be showing. If not available use search above to find your flight by airline, airport or flight number.
Origin
Airline
Flight no.
Scheduled
Est./Actual
Status
Cologne (CGN)
Maersk Air Cargo
DJ6402
05:08
Scheduled
Paris (CDG)
ASL Airlines
3V4026
05:23
Scheduled
No flight arrivals were found at Bologna Airport.
Flight Arrivals at Bologna Airport
One of Italy's lesser-known cities is Bologna, a beautiful and charming place to visit. It is known for its historical wonders and unique cuisine. It's also home to the oldest university in the world, and it draws in over two million tourists annually.
Bologna Airport is one of the cities' famous airports. It has one terminal, which is located on the first floor. The arrivals and departure halls are on the ground floor, while the boarding gates and security checkpoints are on the first floor.
Disabled Services at Bologna Airport
It's essential to report your arrival at the airport as soon as possible so that you can get assistance and inform the contact points of the organization. According to the airlines' guidelines, arriving at the airport at least an hour before the scheduled departure time is ideal.
The shorter waiting times are available for passengers who have already paid for the service at least a couple of days before their scheduled departure.
The longer wait times are available for customers who have made reservations at least 48 hours before their scheduled departure date.
A dedicated contact point for disabled passengers is also available at the airport. These areas allow them to ask for assistance and report their arrival.
Dedicated phones are also available for passengers with disabilities at the airport. These are located near the terminal entrance and parking areas for disabled passengers.
The airport also has various areas for disabled passengers to check in and get assistance. These include the baggage assistance desk, the information desk, and the parking supervision office.
Baggage Claim
The airport's baggage reclaim carousels can be found on the ground floor of the terminal. After you enter the area, you'll see the number of slots for your flight on the screens.
There is a luggage storage facility on the ground floor of the main terminal. The maximum amount of time you can store your items is 120 days. The cost is around €6 per day for bags and €12 per day for bigger things like bikes, strollers, etc.
Plastic wrap machines are located on the ground floor near the check-in area. The lost and found office is also located on the Arrivals level. It's open from 2:00 pm to 6:30 pm and 8:30 pm to 10:00 pm.
Tourist Information
First-time visitors can get information about various exciting issues by visiting the Tourist Information office, which is located on the main terminal's ground floor. You can also call them at +39 051 6472201.
Parking at Bologna Airport
Airport parking is available for both short- and long-term stays. The first 10 minutes are free, and there are also free parking areas in the airport's passenger pick-up and drop-off areas.
Express Parking is located opposite the main terminal. A covered outdoor space and electric car charging stations are available. There are also motorcycle parking bays in the multi-level facility. There is a car park about 200 meters away from the main building. Long-term visitors can take advantage of the free shuttle service every 20 minutes. 
See more information about short and long term parking at Bologna Airport.
Was your flight delayed or cancelled?
You may be eligible to receive up to 600 EUR compensation per person in your party..
Claim Now!
Beat the Queues
Don't stand sweating for 45 mins waiting for Security. Get a fast track and get through in 5 mins or less.
Book now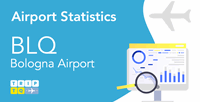 Bologna Airport in Italy experienced a remarkable 15.02% increase in passenger numbers in August 2023. The airport has been witnessing a steady rise in travelers, soaring from 914,094 passengers in August 2019 to an impressive 1,051,453 passengers recorded in August 2023...