Flights, Arrivals & Departures at Bologna Airport
Origin
Airline
Flight no.
Scheduled
Est./Actual
Status
Cologne (CGN)
Maersk Air Cargo
DJ7610
05:55
Delayed
Bergamo (BGY)
Maersk Air Cargo
DJ6498
06:31
Scheduled
Cagliari (CAG)
Ryanair
FR19
07:25
Scheduled
Lamezia-terme (SUF)
Ryanair
FR1012
07:30
Scheduled
Catania (CTA)
Wizz Air
W48183
08:00
Scheduled
Barcelona (BCN)
Vueling
VY6524 expand_more(2)
08:20
Scheduled
Barcelona (BCN)
Iberia
IB5456
08:20
Scheduled
Barcelona (BCN)
Qatar Airways
QR3677
08:20
Scheduled
Tunis (TUN)
Tunisair
TU362
09:35
Scheduled
Catania (CTA)
Malta Air
FR740
09:40
Scheduled
Frankfurt (FRA)
Lufthansa
LH282 expand_more(6)
09:45
Scheduled
Frankfurt (FRA)
Air Canada
AC9147
09:45
Scheduled
Frankfurt (FRA)
Air China
CA6033
09:45
Scheduled
Frankfurt (FRA)
All Nippon Airways
NH6205
09:45
Scheduled
Frankfurt (FRA)
Luxair
LG1437
09:45
Scheduled
Frankfurt (FRA)
Singapore Airlines
SQ2114
09:45
Scheduled
Frankfurt (FRA)
United Airlines
UA8772
09:45
Scheduled
Vienna (VIE)
Austrian Airlines
OS547
09:55
Scheduled
Casablanca (CMN)
Air Arabia
3O467
10:00
Scheduled
Istanbul (IST)
Turkish Airlines
TK1321
10:05
09:59
Landed
Rome (FCO)
ITA Airways
AZ1311 expand_more(10)
10:10
Scheduled
Rome (FCO)
Aerolineas Argentinas
AR7180
10:10
Scheduled
Rome (FCO)
Air France
AF9768
10:10
Scheduled
Rome (FCO)
Air Malta
KM2511
10:10
Scheduled
Rome (FCO)
AirSERBIA
JU7330
10:10
Scheduled
Rome (FCO)
China Southern Airlines
CZ7349
10:10
Scheduled
Rome (FCO)
Delta Air Lines
DL6676
10:10
Scheduled
Rome (FCO)
Ethiopian Airlines
ET4043
10:10
Scheduled
Rome (FCO)
Etihad Airways
EY2844
10:10
Scheduled
Rome (FCO)
Hainan Airlines
HU8243
10:10
Scheduled
Rome (FCO)
Korean Air
KE6340
10:10
Scheduled
Brussels (CRL)
Malta Air
FR3939
10:25
Scheduled
Tirana (TIA)
Ryanair
FR8399
10:55
Scheduled
Madrid (MAD)
Iberia Regional
IB8756 expand_more(4)
11:30
Scheduled
Madrid (MAD)
American Airlines
AA8619
11:30
Scheduled
Madrid (MAD)
LATAM Airlines
LA1714
11:30
Scheduled
Madrid (MAD)
Qatar Airways
QR6548
11:30
Scheduled
Madrid (MAD)
Vueling
VY5550
11:30
Scheduled
Amsterdam (AMS)
KLM
KL1583 expand_more(6)
12:20
Scheduled
Amsterdam (AMS)
China Eastern Airlines
MU1813
12:20
Scheduled
Amsterdam (AMS)
China Southern Airlines
CZ7619
12:20
Scheduled
Amsterdam (AMS)
Delta Air Lines
DL9576
12:20
Scheduled
Amsterdam (AMS)
GOL Linhas Aereas
G35518
12:20
Scheduled
Amsterdam (AMS)
Kenya Airways
KQ1583
12:20
Scheduled
Amsterdam (AMS)
Xiamen Air
MF9343
12:20
Scheduled
Istanbul (SAW)
Pegasus
PC1217
12:25
Scheduled
Dubai (DXB)
Emirates
EK93 expand_more(1)
12:40
Scheduled
Dubai (DXB)
Qantas
QF8093
12:40
Scheduled
Munich (MUC)
Air Dolomiti
EN8240 expand_more(5)
12:40
Cancelled
Munich (MUC)
Air Canada
AC7352
12:40
Cancelled
Munich (MUC)
Air China
CA6453
12:40
Cancelled
Munich (MUC)
All Nippon Airways
NH6871
12:40
Cancelled
Munich (MUC)
Lufthansa
LH9482
12:40
Cancelled
Munich (MUC)
United Airlines
UA9704
12:40
Cancelled
Catania (CTA)
Ryanair
FR1088
12:45
Scheduled
Brussels (BRU)
Brussels Airlines
SN3125 expand_more(1)
12:50
Scheduled
Brussels (BRU)
United Airlines
UA9904
12:50
Scheduled
Tirana (TIA)
Wizz Air
W43877
13:15
Scheduled
Iasi (IAS)
Wizz Air
W43667
13:25
Scheduled
Eindhoven (EIN)
Malta Air
FR787
14:00
Scheduled
Zurich (ZRH)
Edelweiss Air
LX1670
14:00
Scheduled
Frankfurt (FRA)
Lufthansa
LH284 expand_more(3)
14:05
Scheduled
Frankfurt (FRA)
Air Canada
AC9497
14:05
Scheduled
Frankfurt (FRA)
Luxair
LG1431
14:05
Scheduled
Frankfurt (FRA)
United Airlines
UA9526
14:05
Scheduled
Trapani (TPS)
Ryanair
FR2010
14:25
Scheduled
Paris (CDG)
Air France
AF1428 expand_more(5)
14:30
Scheduled
Paris (CDG)
Air Austral
UU8428
14:30
Scheduled
Paris (CDG)
Air Mauritius
MK9538
14:30
Scheduled
Paris (CDG)
Delta Air Lines
DL8421
14:30
Scheduled
Paris (CDG)
GOL Linhas Aereas
G35277
14:30
Scheduled
Paris (CDG)
Kenya Airways
KQ3764
14:30
Scheduled
Paris (BVA)
Malta Air
FR4293
14:50
Scheduled
Manises (VLC)
Ryanair
FR619
14:55
Scheduled
Craiova (CRA)
Wizz Air
W43761
15:00
Scheduled
Cluj-Napoca (CLJ)
Wizz Air
W43393
15:10
Scheduled
Dusseldorf (DUS)
Eurowings
EW9834
15:15
Scheduled
Lyon (LYS)
Twin Jet
T76615
15:15
Scheduled
Casablanca (CMN)
Royal Air Maroc
AT952 expand_more(1)
15:55
Scheduled
Casablanca (CMN)
ITA Airways
AZ7144
15:55
Scheduled
Amsterdam (AMS)
KLM
KL1591 expand_more(5)
16:30
Scheduled
Amsterdam (AMS)
China Eastern Airlines
MU1814
16:30
Scheduled
Amsterdam (AMS)
Delta Air Lines
DL9577
16:30
Scheduled
Amsterdam (AMS)
GOL Linhas Aereas
G35572
16:30
Scheduled
Amsterdam (AMS)
Kenya Airways
KQ1591
16:30
Scheduled
Amsterdam (AMS)
Xiamen Air
MF9695
16:30
Scheduled
Tunis (TUN)
Nouvelair Tunisie
BJ612
16:45
Scheduled
Munich (MUC)
Air Dolomiti
EN8242 expand_more(2)
16:50
Cancelled
Munich (MUC)
Lufthansa
LH9484
16:50
Cancelled
Munich (MUC)
United Airlines
UA9702
16:50
Cancelled
London (LHR)
British Airways
BA544 expand_more(3)
17:50
Scheduled
London (LHR)
American Airlines
AA6716
17:50
Scheduled
London (LHR)
Jet Linx Aviation
JL7153
17:50
Scheduled
London (LHR)
Qatar Airways
QR5965
17:50
Scheduled
Paris (CDG)
Air France
AF1828 expand_more(5)
18:00
Scheduled
Paris (CDG)
Air Mauritius
MK9534
18:00
Scheduled
Paris (CDG)
China Eastern Airlines
MU1903
18:00
Scheduled
Paris (CDG)
Delta Air Lines
DL8474
18:00
Scheduled
Paris (CDG)
GOL Linhas Aereas
G35166
18:00
Scheduled
Paris (CDG)
Kenya Airways
KQ3072
18:00
Scheduled
Madrid (MAD)
Iberia Regional
IB8760 expand_more(4)
18:10
Scheduled
Madrid (MAD)
American Airlines
AA8620
18:10
Scheduled
Madrid (MAD)
LATAM Airlines
LA1709
18:10
Scheduled
Madrid (MAD)
Qatar Airways
QR6590
18:10
Scheduled
Madrid (MAD)
Vueling
VY5552
18:10
Scheduled
Istanbul (IST)
Turkish Airlines
TK1325
18:15
Scheduled
Rome (FCO)
ITA Airways
AZ1317 expand_more(9)
18:55
Scheduled
Rome (FCO)
Aerolineas Argentinas
AR7184
18:55
Scheduled
Rome (FCO)
Air Baltic
BT5545
18:55
Scheduled
Rome (FCO)
Air Europa
UX3123
18:55
Scheduled
Rome (FCO)
Etihad Airways
EY2845
18:55
Scheduled
Rome (FCO)
Kuwait Airways
KU6244
18:55
Scheduled
Rome (FCO)
Luxair
LG1297
18:55
Scheduled
Rome (FCO)
Royal Air Maroc
AT9242
18:55
Scheduled
Rome (FCO)
Royal Jordanian
RJ3553
18:55
Scheduled
Rome (FCO)
Saudia
SV6219
18:55
Scheduled
Vienna (VIE)
Austrian Airlines
OS549
18:55
Scheduled
Barcelona (BCN)
Malta Air
FR575
19:10
Scheduled
Warsaw (WAW)
Wizz Air
W61465
20:10
Scheduled
Palermo (PMO)
Ryanair
FR3927
20:30
Scheduled
Tirana (TIA)
Air Albania
ZB2005
20:40
Scheduled
Bucharest (OTP)
Wizz Air
W43139
21:10
Scheduled
London (STN)
Ryanair
FR194
21:25
Scheduled
Brindisi (BDS)
Ryanair
FR3775
21:45
Scheduled
Catania (CTA)
Ryanair
FR1086
21:55
Scheduled
Tirana (TIA)
Wizz Air
W43847
22:05
Scheduled
Catania (CTA)
Wizz Air
W48185
22:55
Scheduled
Munich (MUC)
Air Dolomiti
EN8244 expand_more(1)
23:00
Scheduled
Munich (MUC)
Lufthansa
LH9486
23:00
Scheduled
Amsterdam (AMS)
KLM
KL1595 expand_more(3)
23:10
Scheduled
Amsterdam (AMS)
GOL Linhas Aereas
G35582
23:10
Scheduled
Amsterdam (AMS)
Kenya Airways
KQ1595
23:10
Scheduled
Amsterdam (AMS)
Xiamen Air
MF9345
23:10
Scheduled
Frankfurt (FRA)
Lufthansa
LH290 expand_more(3)
23:25
Scheduled
Frankfurt (FRA)
Air China
CA6117
23:25
Scheduled
Frankfurt (FRA)
All Nippon Airways
NH6125
23:25
Scheduled
Frankfurt (FRA)
Luxair
LG1435
23:25
Scheduled
Paris (CDG)
Air France
AF1028 expand_more(2)
23:30
Scheduled
Paris (CDG)
Air Mauritius
MK9530
23:30
Scheduled
Paris (CDG)
GOL Linhas Aereas
G35174
23:30
Scheduled
Tenerife (TFS)
Ryanair
FR3897
23:30
Scheduled
Madrid (MAD)
Iberia
IB8762 expand_more(3)
23:40
Scheduled
Madrid (MAD)
Jet Linx Aviation
JL9447
23:40
Scheduled
Madrid (MAD)
LATAM Airlines
LA1730
23:40
Scheduled
Madrid (MAD)
Vueling
VY5554
23:40
Scheduled
Destination
Airline
Flight no.
Scheduled
Est./Actual
Status
Catania (CTA)
Malta Air
FR739
05:45
05:55
En-Route
Munich (MUC)
Air Dolomiti
EN8245 expand_more(5)
06:05
Cancelled
Munich (MUC)
Air Canada
AC7353
06:05
Cancelled
Munich (MUC)
Air China
CA6451
06:05
Cancelled
Munich (MUC)
All Nippon Airways
NH6872
06:05
Cancelled
Munich (MUC)
Lufthansa
LH9487
06:05
Cancelled
Munich (MUC)
United Airlines
UA9706
06:05
Cancelled
Amsterdam (AMS)
KLM
KL1582 expand_more(6)
06:30
Scheduled
Amsterdam (AMS)
China Eastern Airlines
MU1816
06:30
Scheduled
Amsterdam (AMS)
China Southern Airlines
CZ7621
06:30
Scheduled
Amsterdam (AMS)
Delta Air Lines
DL9418
06:30
Scheduled
Amsterdam (AMS)
GOL Linhas Aereas
G35575
06:30
Scheduled
Amsterdam (AMS)
Kenya Airways
KQ1582
06:30
Scheduled
Amsterdam (AMS)
Xiamen Air
MF9342
06:30
Scheduled
Paris (CDG)
Air France
AF1029 expand_more(4)
06:30
Scheduled
Paris (CDG)
Air Mauritius
MK9533
06:30
Scheduled
Paris (CDG)
Delta Air Lines
DL8696
06:30
Scheduled
Paris (CDG)
GOL Linhas Aereas
G35157
06:30
Scheduled
Paris (CDG)
Kenya Airways
KQ3071
06:30
Scheduled
Brussels (CRL)
Malta Air
FR3938
06:30
Scheduled
Rome (FCO)
ITA Airways
AZ1312 expand_more(17)
06:30
Scheduled
Rome (FCO)
Aerolineas Argentinas
AR7283
06:30
Scheduled
Rome (FCO)
Air Europa
UX3178
06:30
Scheduled
Rome (FCO)
Air Malta
KM2510
06:30
Scheduled
Rome (FCO)
AirSERBIA
JU7331
06:30
Scheduled
Rome (FCO)
Bulgaria Air
FB1618
06:30
Scheduled
Rome (FCO)
China Airlines
CI9260
06:30
Scheduled
Rome (FCO)
China Southern Airlines
CZ7361
06:30
Scheduled
Rome (FCO)
Delta Air Lines
DL6690
06:30
Scheduled
Rome (FCO)
Etihad Airways
EY2814
06:30
Scheduled
Rome (FCO)
Hainan Airlines
HU8244
06:30
Scheduled
Rome (FCO)
Kuwait Airways
KU6243
06:30
Scheduled
Rome (FCO)
MEA
ME4212
06:30
Scheduled
Rome (FCO)
Royal Air Maroc
AT9159
06:30
Scheduled
Rome (FCO)
Royal Jordanian
RJ3564
06:30
Scheduled
Rome (FCO)
Saudia
SV6220
06:30
Scheduled
Rome (FCO)
TAP Air Portugal
TP7173
06:30
Scheduled
Rome (FCO)
Tarom
RO9634
06:30
Scheduled
Frankfurt (FRA)
Lufthansa
LH291 expand_more(4)
06:40
Scheduled
Frankfurt (FRA)
Air Canada
AC9176
06:40
Scheduled
Frankfurt (FRA)
All Nippon Airways
NH6204
06:40
Scheduled
Frankfurt (FRA)
Singapore Airlines
SQ2117
06:40
Scheduled
Frankfurt (FRA)
United Airlines
UA9528
06:40
Scheduled
Madrid (MAD)
Iberia Regional
IB8763 expand_more(4)
06:50
Scheduled
Madrid (MAD)
American Airlines
AA8511
06:50
Scheduled
Madrid (MAD)
Jet Linx Aviation
JL9446
06:50
Scheduled
Madrid (MAD)
Qatar Airways
QR6597
06:50
Scheduled
Madrid (MAD)
Vueling
VY5555
06:50
Scheduled
Tirana (TIA)
Ryanair
FR8398
07:00
Scheduled
London (LHR)
British Airways
BA543 expand_more(2)
07:35
Scheduled
London (LHR)
American Airlines
AA6617
07:35
Scheduled
London (LHR)
Jet Linx Aviation
JL7152
07:35
Scheduled
Cagliari (CAG)
Ryanair
FR18
07:50
Scheduled
Lamezia Terme (SUF)
Ryanair
FR1011
07:55
Scheduled
Catania (CTA)
Wizz Air
W48184
08:35
Scheduled
Barcelona (BCN)
Vueling
VY6525 expand_more(3)
09:10
Scheduled
Barcelona (BCN)
Iberia
IB5457
09:10
Scheduled
Barcelona (BCN)
LATAM Airlines
LA5827
09:10
Scheduled
Barcelona (BCN)
Qatar Airways
QR3652
09:10
Scheduled
Eindhoven (EIN)
Malta Air
FR788
10:05
Scheduled
Valencia (VLC)
Ryanair
FR620
10:15
Scheduled
Frankfurt (FRA)
Lufthansa
LH283 expand_more(4)
10:30
Scheduled
Frankfurt (FRA)
Air Canada
AC9398
10:30
Scheduled
Frankfurt (FRA)
Air China
CA6012
10:30
Scheduled
Frankfurt (FRA)
Luxair
LG1432
10:30
Scheduled
Frankfurt (FRA)
United Airlines
UA8773
10:30
Scheduled
Tunis (TUN)
Tunisair
TU363
10:35
Scheduled
Vienna (VIE)
Austrian Airlines
OS548 expand_more(1)
10:40
Scheduled
Vienna (VIE)
Egyptair
MS9201
10:40
Scheduled
Paris (BVA)
Malta Air
FR4292
10:50
Scheduled
Casablanca (CMN)
Air Arabia
3O468
10:50
Scheduled
Rome (FCO)
ITA Airways
AZ1314 expand_more(10)
10:55
Scheduled
Rome (FCO)
Aerolineas Argentinas
AR7181
10:55
Scheduled
Rome (FCO)
Air Baltic
BT5501
10:55
Scheduled
Rome (FCO)
Air Europa
UX3122
10:55
Scheduled
Rome (FCO)
Air France
AF9825
10:55
Scheduled
Rome (FCO)
AirSERBIA
JU7144
10:55
Scheduled
Rome (FCO)
Etihad Airways
EY2837
10:55
Scheduled
Rome (FCO)
Luxair
LG1284
10:55
Scheduled
Rome (FCO)
Royal Air Maroc
AT9199
10:55
Scheduled
Rome (FCO)
Royal Jordanian
RJ3554
10:55
Scheduled
Rome (FCO)
TAP Air Portugal
TP7130
10:55
Scheduled
Trapani (TPS)
Ryanair
FR2009
11:00
Scheduled
Istanbul (IST)
Turkish Airlines
TK1322
11:05
Scheduled
Madrid (MAD)
Iberia Regional
IB8757 expand_more(3)
12:10
Scheduled
Madrid (MAD)
LATAM Airlines
LA1591
12:10
Scheduled
Madrid (MAD)
Qatar Airways
QR6542
12:10
Scheduled
Madrid (MAD)
Vueling
VY5551
12:10
Scheduled
Amsterdam (AMS)
KLM
KL1584 expand_more(4)
13:00
Scheduled
Amsterdam (AMS)
China Southern Airlines
CZ1389
13:00
Scheduled
Amsterdam (AMS)
Delta Air Lines
DL9419
13:00
Scheduled
Amsterdam (AMS)
Kenya Airways
KQ1584
13:00
Scheduled
Amsterdam (AMS)
Xiamen Air
MF9344
13:00
Scheduled
Catania (CTA)
Ryanair
FR1087
13:10
Scheduled
Munich (MUC)
Air Dolomiti
EN8241 expand_more(2)
13:20
Scheduled
Munich (MUC)
Lufthansa
LH9483
13:20
Scheduled
Munich (MUC)
United Airlines
UA9705
13:20
Scheduled
Le Mans (LME)
VistaJet
VJT473
13:30
Scheduled
Istanbul (SAW)
Pegasus
PC1218
13:30
Scheduled
Brussels (BRU)
Brussels Airlines
SN3126 expand_more(1)
13:40
Scheduled
Brussels (BRU)
All Nippon Airways
NH5142
13:40
Scheduled
Tirana (TIA)
Wizz Air
W43878
13:50
Scheduled
Tenerife (TFS)
Ryanair
FR3896
13:55
Scheduled
Iasi (IAS)
Wizz Air
W43668
14:00
Scheduled
Dubai (DXB)
Emirates
EK94 expand_more(1)
14:30
Scheduled
Dubai (DXB)
Qantas
QF8094
14:30
Scheduled
Zurich (ZRH)
Edelweiss Air
LX1671
14:45
Scheduled
Frankfurt (FRA)
Lufthansa
LH285 expand_more(10)
14:55
Scheduled
Frankfurt (FRA)
Air China
CA6106
14:55
Scheduled
Frankfurt (FRA)
Air China
CA6106
14:55
Scheduled
Frankfurt (FRA)
All Nippon Airways
NH6008
14:55
Scheduled
Frankfurt (FRA)
All Nippon Airways
NH6008
14:55
Scheduled
Frankfurt (FRA)
Luxair
LG1438
14:55
Scheduled
Frankfurt (FRA)
Luxair
LG1438
14:55
Scheduled
Frankfurt (FRA)
Singapore Airlines
SQ2115
14:55
Scheduled
Frankfurt (FRA)
Singapore Airlines
SQ2115
14:55
Scheduled
Frankfurt (FRA)
United Airlines
UA9394
14:55
Scheduled
Frankfurt (FRA)
United Airlines
UA9394
14:55
Scheduled
Frankfurt (FRA)
Lufthansa
LH285 expand_more(10)
14:55
Scheduled
Frankfurt (FRA)
Air China
CA6106
14:55
Scheduled
Frankfurt (FRA)
Air China
CA6106
14:55
Scheduled
Frankfurt (FRA)
All Nippon Airways
NH6008
14:55
Scheduled
Frankfurt (FRA)
All Nippon Airways
NH6008
14:55
Scheduled
Frankfurt (FRA)
Luxair
LG1438
14:55
Scheduled
Frankfurt (FRA)
Luxair
LG1438
14:55
Scheduled
Frankfurt (FRA)
Singapore Airlines
SQ2115
14:55
Scheduled
Frankfurt (FRA)
Singapore Airlines
SQ2115
14:55
Scheduled
Frankfurt (FRA)
United Airlines
UA9394
14:55
Scheduled
Frankfurt (FRA)
United Airlines
UA9394
14:55
Scheduled
Barcelona (BCN)
Malta Air
FR574
15:05
Scheduled
Paris (CDG)
Air France
AF1429 expand_more(2)
15:25
Scheduled
Paris (CDG)
Air Austral
UU8429
15:25
Scheduled
Paris (CDG)
Air Mauritius
MK9473
15:25
Scheduled
Craiova (CRA)
Wizz Air
W43762
15:35
Scheduled
Cluj-Napoca (CLJ)
Wizz Air
W43394
15:45
Scheduled
Dusseldorf (DUS)
Eurowings
EW9835
15:55
Scheduled
Lyon (LYS)
Twin Jet
T76616
16:10
Scheduled
Casablanca (CMN)
Royal Air Maroc
AT953 expand_more(1)
16:55
Scheduled
Casablanca (CMN)
ITA Airways
AZ7143
16:55
Scheduled
Miami (OPF)
VistaJet
VJT741
17:00
Scheduled
Amsterdam (AMS)
KLM
KL1592 expand_more(3)
17:10
Scheduled
Amsterdam (AMS)
China Eastern Airlines
MU1815
17:10
Scheduled
Amsterdam (AMS)
Kenya Airways
KQ1592
17:10
Scheduled
Amsterdam (AMS)
Xiamen Air
MF9782
17:10
Scheduled
Munich (MUC)
Air Dolomiti
EN8243 expand_more(1)
17:30
Cancelled
Munich (MUC)
Lufthansa
LH9485
17:30
Cancelled
Tunis (TUN)
Nouvelair Tunisie
BJ613
17:45
Scheduled
Catania (CTA)
Ryanair
FR1085
18:00
Scheduled
Madrid (MAD)
Iberia Regional
IB8761 expand_more(3)
18:50
Scheduled
Madrid (MAD)
LATAM Airlines
LA1592
18:50
Scheduled
Madrid (MAD)
Qatar Airways
QR6873
18:50
Scheduled
Madrid (MAD)
Vueling
VY5553
18:50
Scheduled
Paris (CDG)
Air France
AF1829 expand_more(5)
18:55
Scheduled
Paris (CDG)
Air Austral
UU8829
18:55
Scheduled
Paris (CDG)
Air Mauritius
MK9471
18:55
Scheduled
Paris (CDG)
China Eastern Airlines
MU1904
18:55
Scheduled
Paris (CDG)
GOL Linhas Aereas
G35173
18:55
Scheduled
Paris (CDG)
Kenya Airways
KQ3191
18:55
Scheduled
Istanbul (IST)
Turkish Airlines
TK1326
19:15
Scheduled
Rome (FCO)
ITA Airways
AZ1320 expand_more(4)
19:40
Scheduled
Rome (FCO)
Aerolineas Argentinas
AR7183
19:40
Scheduled
Rome (FCO)
Ethiopian Airlines
ET4044
19:40
Scheduled
Rome (FCO)
Etihad Airways
EY2838
19:40
Scheduled
Rome (FCO)
Korean Air
KE6298
19:40
Scheduled
Vienna (VIE)
Austrian Airlines
OS550
19:40
Scheduled
Warsaw (WAW)
Wizz Air
W61466
20:45
Scheduled
Palermo (PMO)
Ryanair
FR3926
20:55
Scheduled
Tirana (TIA)
Air Albania
ZB2006
21:40
Scheduled
Bucharest (OTP)
Wizz Air
W43140
21:45
Scheduled
Cologne (CGN)
Maersk Air Cargo
DJ6497
21:55
Scheduled
London (STN)
Ryanair
FR195
22:05
Scheduled
Brindisi (BDS)
Ryanair
FR3774
22:10
Scheduled
Cologne (CGN)
Maersk Air Cargo
DJ7611
22:10
Scheduled
Tirana (TIA)
Wizz Air
W43848
22:40
Scheduled
Catania (CTA)
Wizz Air
W48186
23:30
Scheduled
Flying To and From Bologna Airport
This page provides information about the destinations that can be reached via Bologna Airport.

Was your flight delayed or cancelled?
You may be eligible to receive up to 600 EUR compensation per person in your party..
Claim Now!
Beat the Queues
Don't stand sweating for 45 mins waiting for Security. Get a fast track and get through in 5 mins or less.
Book now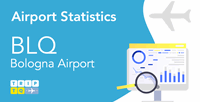 Bologna Airport recorded an impressive 11.91% increase in passenger numbers in September 2023 compared to the same month in 2019.